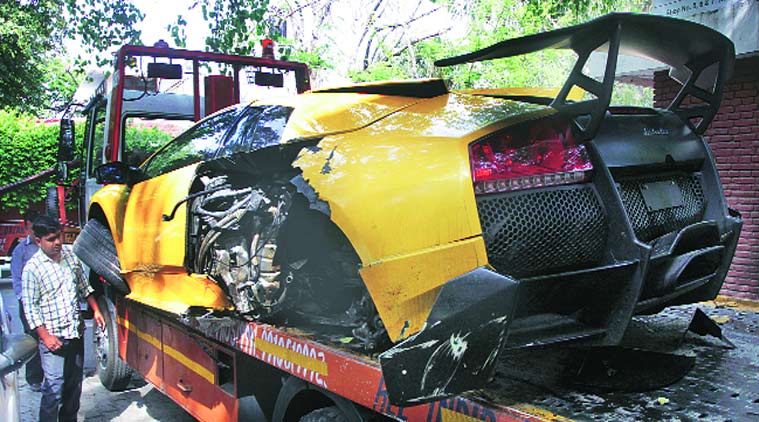 The Lamborghini that crashed near India Gate late Wednesday night was being driven by the director of a real estate firm based in Greater Noida, police said. Police identified him as Gaurav Mavi, but haven't arrested him yet.
Police said one of the directors of property brokerage firm Better Option PropertyMart Pvt Ltd was behind the wheel of the speeding Lamborghini that crashed into the pavement of a park. Speeding on the Outer Circle of C-Hexagon, Copernicus Marg, around 1.15 am Wednesday, the car ended up hitting the pavement of a park between Copernicus Marg and Tilak Marg. The driver got out of the car and fled.
The real estate firm has four directors, all of who are relatives, police said. "The car was registered not in the name of an individual, but in the name of Better Option PropertyMart Pvt Ltd. We have registered a case of rash and negligent driving under Section 279 of the IPC against the driver who we have identified. However, we are still corroborating whether it was the person we have identified or one of his relatives," Deputy Commissioner of Police (New Delhi) Vijay Singh said.
"Prima facie, it looks like the person driving the vehicle had taken it out for a joyride. Moreover, the car did not have a numberplate, which is why we have also applied punitive sections of the Motor Vehicles Act," a senior police officer said.
Constable Tejpal, on duty at the Copernicus Marg -Tilak Marg crossing that night, saw the car hurtling in his direction on the Outer Circle of C-Hexagon, Copernicus Marg, around 1.15 am. The driver then lost control and hit a pavement, police said.
The rear left portion of the car was badly damaged. The car's airbags deployed on impact, saving the driver who did not sustain any serious injury. But the driver got off the damaged car and fled the scene before police could catch him.
Policemen on duty there made a PCR call. The car was towed away to the Tilak Marg police station. Though police could find no numberplate on the car, they traced the car to its owner company from the papers and documents they found inside.
The two-seat car is of a 2010 make and was bought the same year, police said. The car is registered in the name of the firm earlier based in South Delhi's Kotla Mubarakpur area. But, it is currently based in Greater Noida, police said.
The company, which was established in 2006, on its website claims it is "India's leading real estate consultants" with over "70,000 satisfied customers" and 10 state-of-the-art BOP studios across India, Dubai and Singapore.
Read more: click Here